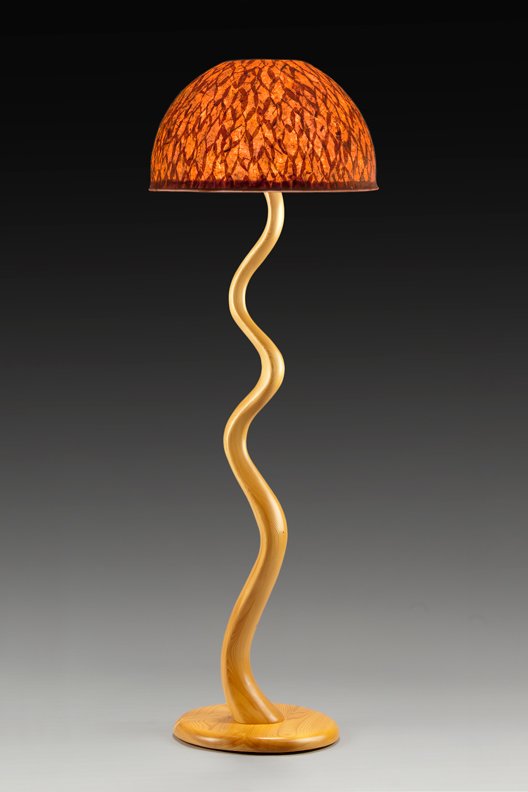 "Studio Furniture" has become the format for which the craftsman can push function into
the realm of artistic expression.
Larry Brown is one such artist/ craftsman who has over 34 years established a reputation
for superb craftsmanship, as well as creating a range of dramatic yet elegant work.
Each piece being a dynamic marraige between form and function.
Larry Brown creates one-off original pieces as well as site-specific, signiture works, designed
and created in collaboration with his clients, to fit their spacial needs . These unique
works are placed in both private as well as public collections.
Comfortable working with interior designers, architects ,as well as individuals,
he welcomes collaborative projects in all aspects of Studio Furniture and production,
as well as Fine Cabinet fabrication, and entire built-in enviroments in wood.
Located in the beautiful Blue Ridge Mountains of North Carolina , he lives in the heart of nature.
His studio is nestled in at the top of a mountain, inspiring Larry to create works that reflect
his love of wood and his connection to the forests that wood comes from.
Now, over the past year, Larry's focus has landed in the lighting realm. Designing lamps using
the organic design philosophy he is so well known for, he has integrated this design style into
lighting fixtures in both table and floor lamps. Designing not only the lamps but also the shades,
he has worked along side Artist Pat Benard, to come up with a completely unique look which not
only adds movement and excitement to this traditionally high function -low style furnishing, but
also presents a glowing colorful ambiance that commands attention when present in any interior
enviornment.
Please call or Email if you are interested in imformation about the lamps or would like to set up an appointment to stop by the gallery /studio in Spruce Pine, North Carolina.
In addition if you have a project you would like to discuss please feel free to communicate.
Phone: 828-467-9479
email at: larrybrownstudios@gmail.com